CD-DETAILS SOUNDSPECIES [SOUNDSPECIES]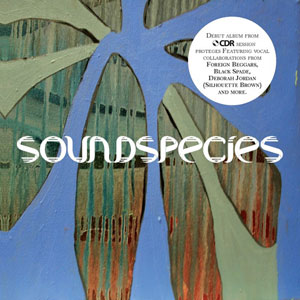 WEBSITE:
www.soundspecies.co.uk
This is the first album of infamous CD-R sessions.

Generally based in London, Soundspecies encompasses a collective of friends and different projects, with the momentum and focus coming from a family connection: four brothers raised with a jamboree of musical instruments for toys learnt they had a love for jamming and creating sounds from an early age.

Fast forward through developing years:
Henry Keen getting busy with beats and decks and sussing the London scene.
Olly Keen playing lots of bass in bands and training in music recording, composing and acoustics at Salford university, Manchester.
Nathaniel Keen working hard and playing hard on his guitar.
Barnaby Keen composing and playing sax in various bands, then travelling and suckling inspiration in Brazil, Morocco, and Borneo.
Expanding the family until the whole world is our friend.

Music is a universal language, a communication with like minds…fellow soundspecies worldwide.

Tracklisting
«Star Wars»
«Something New - Brazilya Part 2 Feat. Emilia Martennsson»
«Purple Hale Feat. Ninkisun (remix)»
«Cdr People Feat. Foreign Beggars»
«Beautiful Not Suitable (Black Spade)»
«Relax (Deborah Jordan)»
«Mask»
«Moog Jam»
«Journeyman»
«Abdoulaye Mbengue»
«80db Window (Ventriloquist)»
«Waiting For The Sun To Come Up (Barnaby Keen & Deborah Jordan)»
(Quelle: Groove Attack, 2009)


FORMAT: CD